WELCOME TO THE 'PA' DAVIS DISC GOLF COURSE!
THIS WILL TAKE A WHILE TO LOAD, BUT IT'S FASTER THAN DRIVING TO THE COURSE!
Please wait to tee off until you hear "clear!"...or until you see "Done" at the bottom of your screen.
Have a good round and double bogey one for me!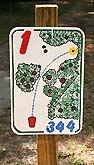 &nbsp &nbsp