Welcome to the
Directions:
From I -10, take exit 103A (hwy 167 - Lafayette). Turn right on Johnston Street. Go past the USL campus and turn left on Lewis Street (one signal light past St. Mary St.). Go down to the dead end and turn right. Turn left at the next driveway and you will be in the Girard Park parking area. Hole number one is to the left of the parking area. Now go kick some air!

WANT TO KNOW HOW IT ALL STARTED?
CLICK ON THE HISTORY BOOK!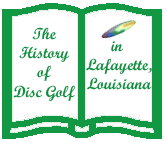 For information contact :
Greg Gautreaux @ (318) 291-8362


or e-mail us at
fotojoe@cox.net

Holes : 9
Tee Boxes : Wood Shavings
2192 total feet
<250 feet = 5
250-300 feet = 3
>300 feet = 1

Lots of beautiful oaks, plenty of shade. Come join us for a "walk in the park," or as we say in Southwest Louisiana,




"LAISSEZ LES BONS TEMPS VOLER!"
(Let the good times fly!)


****
This Website is Maintained by